Discover powerful accounting automation software built for the modern franchise.
Achieve seamless accounting systems. With accounting automation for franchisees and franchisors.
Bookkeep helps franchisees and franchisors…
Save time and increase margins
Antiquated accounting tools can be clunky and insufficient. Bookkeep's sophisticated automation streamlines tedious workflows, like reporting and consolidations. So, you can achieve more with less.
Stay agile and integrate operations
Legacy accounting software can be impossible to update or scale. Bookkeep's ever-growing integrations allow your financial infrastructure to be transparent and agile.
Scale data management and focus on growth
As your franchise grows, so does the amount of data to manage. Bookkeep's automated bookkeeping system scales with your franchise. So, more data doesn't mean less organization and time. 
Reduce error and strengthen insights
The days of manual data entry are over. With automated bookkeeping software, get the transparent insights you need to make the right decisions. No more outsourcing, human error, inaccurate reports, or misinformed decision making.
Navigate compliance requirements
Accounting compliance is constantly changing, and your company can't afford to lag behind. In contrast to older systems, Bookkeep's accounting automation system is built for agility and compliance. 
Protect data and avoid cybersecurity risks
Sensitive data housed in outsourced or outdated software can become a security nightmare. With Bookkeep's accounting automation integration, you can expect a secure flow of data between your key systems. 
Automatically transform 1,000s of individual orders into daily financial summaries. From your point of sale (POS) systems and ecommerce platforms to QuickBooks or Xero.
Daily sales reconciliation
Get daily sales reconciliation, matching sales with bank deposits, net of fees, expenses, and more automatically. All complete with an audit trail.
As your franchise grows, Bookkeep scales seamlessly with you. Add your staff, accountants, and other stakeholders at no additional cost.
Map your franchise's sales, COGS, and more to corresponding accounting categories. And transform raw data into beautiful visualizations. No more manual organization.
Multi-channel consolidation
More than one location? Automatically pull reports from multiple POS systems and platforms. And get all your sales data in one place.
See our
franchise integrations
Our automated accounting software integrates seamlessly with the most popular POS systems and payment platforms.
Why Bookkeep is the
smarter choice for franchisees and franchisors
Daily accrual-based summaries and deposits for easy balance reconciliation
Complete and accurate daily summaries supporting better decision-making.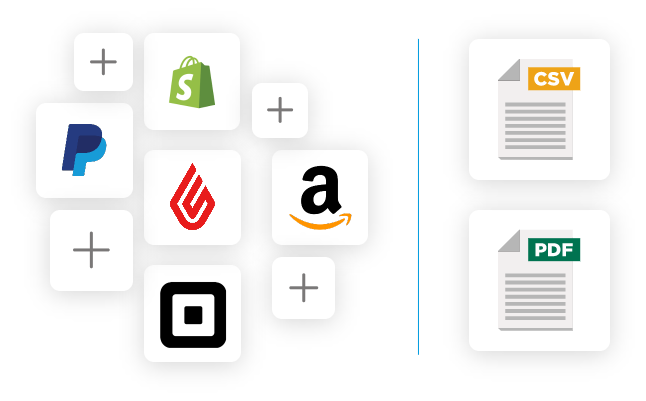 We handle your revenue data from any source and offer daily sales reconciliation. Learn more.
Best training and support
Our support team gets raving reviews, and is minutes away during business hours via chat or email. Video sessions or training are also available 5 days a week. And checkout our
awesome knowledge base
.
What ecommerce accountants are saying
Top accounting firms, ProAdvisors, and independent accountants rely on Bookkeep's smarter automation every day
With my clients that I am able to integrate with Bookkeep, all of those daily sales post automatically and I don't have to do anything! HUGE life and time saver.
Rachel Dauchy
Owner / Quickbooks Advanced ProAdvisor at NetDeposited
Bookkeep provides the most accurate e-commerce sales reporting compared to any other integration. The staff is so helpful and quick to respond.
Maureen Stevens
Owner/Quickbooks ProAdvisor at Sheer Distinction Services
Bookkeep has been the app to help us provide additional value and make us look like complete rock stars to our clients. Having a tool that can help provide solid accuracy and reconciliations on a plethora of eCommerce-related channels and payment providers has been nothing but short of amazing.
Andrew Seguin
Founder of Seguin Financial
Leverage automated accounting.

Built for franchises just like yours.
Contact Sales
Book a Demo
Sign Up!
Contact Sales
Book a Demo
Sign Up!